Best Android Apps: Unclouded
With the proliferation of cloud storage, there's now more room than ever for our virtual belongings. The only problem is that sometimes the service allotments aren't enough. And short of coughing up the extra monthly dues for expanding that space from gigabytes to terabytes, the only recourse is to root out the wastes of space and send them packing elsewhere.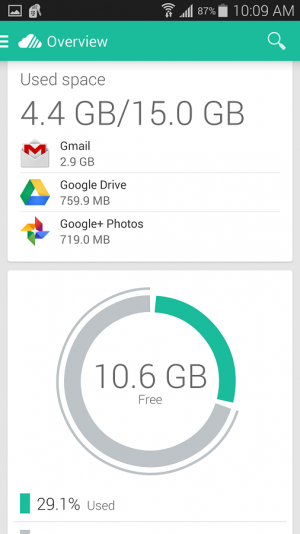 Unclouded is an Android app that makes that task easy. It's essentially a space analyzer for the cloud that identifies the gig-hogs crowding up your limited online storage, enabling you to move them someplace else or delete them altogether.
Compatible with Google Drive and Dropbox, Unclouded's interface is about as clean and user-friendly as they come. Initial use requires you to sign in to your Google Drive and Dropbox accounts. Once the connections are made, the app shows you where you stand with respect to space used versus space remaining.
Files can be displayed in standard File Explorer format and sorted by size, date created, or name. A Categories tab breaks them down by type (audio, images, videos, PDF files, Excel files, etc.) and a Duplicates tab pulls up all identical files. A general Overview tab reports total remaining and used space in percentages. You can also search for individual files with relative ease, either by keyword, specific name, or file extension. Finally, a Last Modified tab lists files by most recently changed by year.
There's room for improvement with Unclouded, as always. For one, you can't check for duplicates that may exist across different clouds — only one account can be viewed at a time. Also, Google Drive and Dropbox support are a great start, but OneDrive and Box users will find the app incomplete. The free version is limited in what it lets users actually do once they've identified the biggest folders, and requires upgrading to the premium version to take any action. But in its defense, Unclouded is far more functional at pointing out cloud storage hogs than even the official apps from Google Drive and Dropbox.
Unclouded is compatible with Android devices running 4.0.3 and later and can be downloaded now for free from Google Play. The premium version is available for $1.99 and gives you the ability to upload files directly to your cloud storage share links to files via email or messaging and other advanced features.