Agenda Computing VR3 (H2O)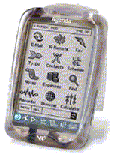 The Agenda VR3 is the perfect portable PC to manage your busy life!
The Agenda VR3 portable PC, running on the Linux OS, provides the convenience, flexibility and power of a connected personal computer in a portable machine you can take anywhere! Agenda VR3 comes equipped with important personal organizer features you need including contacts, to-do lists, appointment planner, memos, address book, calculator, expense, e-mail, fax, IR-Remote, etc.