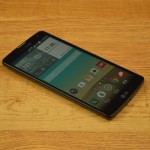 The LG G Vista is a mid-tier Android phablet. It has a 5.7-inch Gorilla Glass 3 IPS LCD display with a 1280 x 720 resolution and a 1.2 GHz quad-core CPU and 1.5 of RAM.
Pros

Decent performance
Great battery
Looks good
LG's Android tweaks prove useful

Cons

Icky build, feels greasy
Relatively low-res display that suffers in glare
Camera merely acceptable
Quick Take
The LG G Vista is a perfectly functional Android phablet that cuts the right corners. It works for those with modest smartphone needs and a modest smartphone budget.
Read Our Full Review: LG G Vista Review