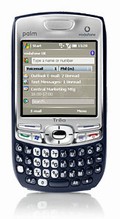 The 750 greatly resembles previous smartphones from Palm, but, unlike its predecessors, it does not need an external antenna. It has a tablet design, with a 240-by-240-pixel touchscreen above an alphanumeric keyboard. This smartphone runs Windows Mobile 5.2 for Pocket PC. This will make it the first Windows Mobile device from Palm to use the GSM/GPRS standard. It will also support UMTS, but a software upgrade is expected to add HSDPA support.
Read Our Full Review: Palm Treo 750 Review
Sorry pricing for this product is not found. Here is pricing on some similar products.
POWERED BY: