Samsung Galaxy S5 Sport Review: Running in Place
September 24, 2014
by
Jeff Dunn
Reads (4,425)
The Empty Calories of TouchWiz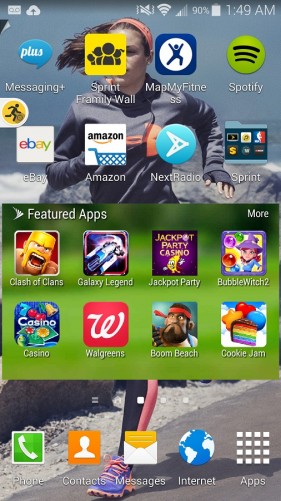 The other noteworthy changes here come in the S5 Sport's software, which is based on Android 4.4. For the most part, we're looking at the same TouchWiz skin from before, which means that the UI is still too bloated and redundant for our liking. It's still loaded with numerous apps that perform similar functions (there are no less than three different app stores here), inconsistent points of design (the settings menu comes straight out of Tizen), and an overwhelming avalanche of options and gimmicky features.
It gives you lots and lots of functionality in exchange for all of this — including Samsung's "Activity Zone" app, which adds barometer and compass functionality and is also on the S5 Active — and it's still easy enough for casual users to pick up and use for the Internet, but "easy enough" just isn't acceptable in a world where the Moto X exists, and where HTC, LG, and others have streamlined their Android skins with each release.
Unfortunately, Sprint's additions to the S5 Sport only further complicate things. As was the case with the HTC One (M8) Harman Kardon edition, Sprint has taken its exclusive as an opportunity to stuff a buffet of pre-loaded apps in your face. You'll see an entire home screen of them upon booting up the phone, and once again, almost all of them are not vital — unless you got to have eBay, NextRadio, Messaging+, NBA Game Time, NASCAR Mobile 2014, Scout, Eureka Offers, 1Weather, Lookout Security, Sprint TV & Movies, Sprint Music Plus, Sprint Framily Wall, Sprint ID, or this one widget that links you to Walgreens and Clash of Clans, that is. We're going to guess you don't. Thankfully, most (though not all) of this bloat can be removed from the device entirely, but it'd be nice to not have to go through that tedious process with every single-carrier device.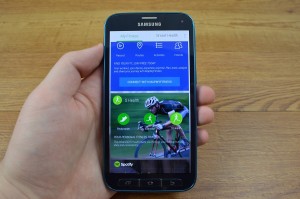 Sprint's main differential, though, is a software suite it dubs Sprint Fit Live. It's accessible exactly the same way the carrier's music portal was on the One (M8) Harman Kardon edition, with a page corner type icon that can be "peeled" down from the top of the home screen. Alternatively, a widget version of it can be opened through an ever-present yellow icon on the same screen.
This means of access still feels intrusive, and it's only exacerbated by a ridiculous floating hand icon that pops up from time to time and points at the corner of the screen, as if you wouldn't notice anything was different about it on your own. It's naggy, and worst of all, it's the only way the service (which can't be uninstalled) can be accessed because it's tied to the default wallpaper. That wallpaper, by the way, is silly, showcasing pictures of exercising models that are also not-so-subtle advertisements for Under Armour. They're also branded with meaningless slogans like "BETTER YOURSELF" and "SWEAT EVERY DAY." Those can be turned off, and the ads can be replaced with a slideshow of your own photos, but all of this will still look goofy by default.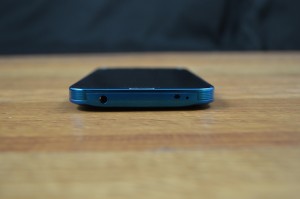 These annoyances would be worth it if Fit Live actually benefited your exercise regimen, but that's not the case. Essentially, it serves as a hub for three different apps — MapMyFitness, Samsung's own S Health, and Spotify — and links you to each one. Alongside those is a tab for "Smart Health," which corrals a curated selection of health-focused articles from the web.
S Health comes with most Samsung phones by default, negating its benefits here, but Sprint throws in premium subscriptions for the other two apps to anyone who purchases the device. MapMyFitness's premium service, called MVP, is a beefed up version of the popular fitness tracker, throwing in tricks like deeper heart rate analysis, automated running routes, and the ability to set and track workout goals. Buying the phone gives you a free year of that. Spotify Premium, meanwhile, grants unlimited streaming of ad-free music, free for either 6 months on one of Sprint's "Framily" plans, or 3 months if you're not. Either way, these are welcome perks for apps that have proven useful for both the physical and mental parts of exercise.
The idea here is that Fit Live will give you all the software you need to work out. In reality, it feels like a half-finished aggregator that was only made to serve Sprint's masters. There's a counter at the bottom of the MapMyFitness widget that shows your basic workout results for the week after you've completed a given activity with that particular program. Other than that, Fit Live doesn't do anything that downloading each individual app and placing them next to each other on a home screen couldn't do. The apps themselves all worked great when we used them on a run or at the gym, but Fit Live had nothing to do with it. It's just a bunch of links.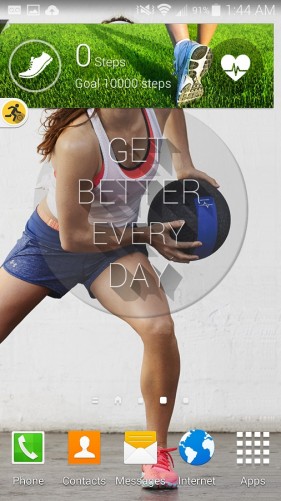 It would be much handier if it gave you playback controls for Spotify, or if it showed you how far you've traveled in real time when logging an exercise in S Health or MapMyFitness, but Fit Live is nowhere near that active. That it's slow to load and crashes every now and again doesn't help either. Same goes for the fact that those "Smart Health" articles usually feel random and come from the same outlet (The Huffington Post) 95% of the time. Or that S Health and MapMyFitness overlap in functionality. Or that it's more or less useless to anyone who's already tied to another fitness tracker or music streamer. For the flagship feature of a phone designed for workouts, Fit Live is rather lazy.
Sprint's LTE is a Network-in-Progress
Finally, since this is a Sprint-only device, it's worth noting that we had consistent issues with the yellow carrier's LTE network during our time with the S5 Sport. We frequently struggled to access it here in the Boston area, and often found ourselves tossed onto the sluggish 2 Mbps download speeds of Sprint's 3G network instead. In subway tunnels or other somewhat out-of-the-way areas, we usually got nothing at all.
When we could connect to 4G, performance was generally pretty good, but you should know coming in that Sprint's network is more volatile than others if you're not totally within its range. That said, the S5 Sport does support the carrier's tri-band "Spark" network, which has performed admirably for us in the past in areas where it's supported. It's just going to depend on where you live.